Shortell, Laurel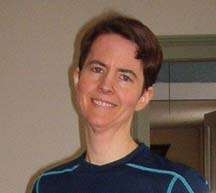 Laurel was a Senior Software Engineer at SERG working on SERG's data visualization software (TinkerPlots) and developing games for the DataGames project.
Laurel earned her Master's degree in Electrical and Computer Engineering at UMass Amherst in 1994 and has spent much of her career working on software for 3D animation, graphics, real-time video editing, and packaging design. She worked with fellow SERG engineer Craig Miller at Specular International on Infini-D, a 3D modeling, rendering, and animation program and lead the Matte Tool engineering team at Media 100 for 844/X, a video editing and compositing application.
When Laurel is not programming, she enjoys snowshoe racing and mountain running.