St. Cyr, Karen
Ed.D. Recipient, Teacher Education & Curriculum Studies
Karen St. Cyr completed her doctoral degree in Teacher Education and School Improvement (School of Education) in November 2008. She has returned to her post in the Ministry of Education of the Bahamas.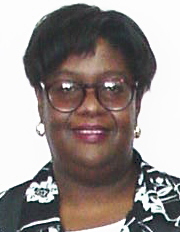 Karen's research interest was professional development (PD) of inservice science teachers, with a focus on continuous and sustained PD situated at the schools where teachers practice. While at UMass, Karen has served as a teaching assistant, supervisor of science and math preservice teachers, research assistant for the SRRI TLT Project, and project assistant for a College of Engineering project called Engineering for Classroom Teachers: Civil and Environmental Engineering in Our Everyday World.
Karen is the Science Education Officer at the Ministry of Education, Youth, Sports and Culture in the Bahamas, responsible for coordinating the primary science program for the country, including the training, supervision, and assessment of teachers. In fulfillment of this responsibility, she designed and implemented over 90 science PD activities for inservice teachers from 1997-2004. As Education Officer, her other main responsibilities were procurement and distribution of science supplies and equipment, and developing resource materials.
Karen has worked with many organizations for the advancement of science and technology. She served as president of the Bahamas Association for Science Technology and Math Educators (BASTME); on the Science Curriculum Committee at the College of the Bahamas; as secretary of the Bahamas Environment, Scientific and Technology Commission (BEST), which advises the Government of the Bahamas on the formulation of policy; on the Bahamas National Commission for United Nations Educational Scientific and Cultural Organization (UNESCO); and on the UNESCO Sub-Committee for Science and Technology. Additionally, Karen has worked with CARICOM (Caribbean Community) and the Caribbean Council of Science and Technology on initiatives to advance science and technology in the Caribbean. She has also participated in and presented at many events to advance science and technology throughout the Bahamas, the Caribbean, the United States, and also in France, where she was a delegate for the Bahamas to the Science and Technology Committee at the UNESCO General Conference Paris, France, 1999.